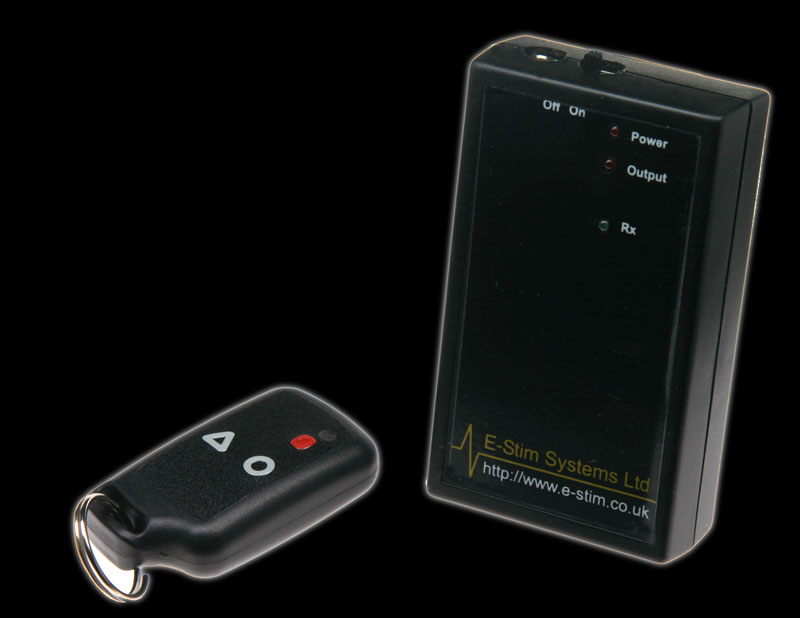 Are you working in TV production and looking for that next shocking experience? Then look no further you have found it.
If you have come here by accident and are looking for our online store then click for our E-Stim Systems store
E-Stim Systems is a UK manufacturer of Electro Stimulation equipment for adults, with extensive experience working within the TV production industry.
Our custom designed E-Stim units can produce a safe and controlled electric 'shock' to the human body through skin contact electrodes via either a wired or remote control system. So if its 'get the question wrong you get zapped', or 'distraction' style games, our systems can help to give you that realistic edge, the only limitation is your imagination.
From single units, to multiple teams based games (one transmitter can control multiple 'victims') , with a range of stimulation levels and sensation we offer you flexibility and total control.
Why consider modifying TENS, muscle building machines, or other 'zappers' with all the safety and insurance considerations, when you can buy off the shelf?
All of our equipment is designed with safety as the first principle and carries a CE mark as well as being designed to comply with the latest British Standards (BS60601-15).
We offer a professional service with a range of wired and remote control E-Stim units allowing your production team complete control over the action. We can provide our standard units at short notice, but we can also supply customisations (different mounting options, fixed wiring) as required.
Our TV credits include

Big Brother (UK) (Mexico) (Israel) (Albania)
Celebrity Big Brother (UK)
Big Brothers Big Quiz
Ultimate Big Brother (2010,UK)
ITV1 The Door
Love Island
#BGMT
Odd One In
Scream if you know the answer
E4 Tool Academy
ITV, I'm a Celebrity Get me out of here, UK
Alan Carr Chatty Man
New Year Special
Made in Chelsea,

Fake Reaction
League of their own
E-Stim Remote Specifications
Licensed Digital RF 415Mhz. Will not interfere with radio microphones.
Range of up to 50M depending on ambient conditions.
21 Levels controlled from a digitally linked keyfob.
Multiple units can be linked if required, giving individual and master control.
Belt mounted and discreet..can be worked into costumes
Battery powered.
Our experienced and professional staff are available for pre-production planning, production training and filming support, and if required can carry spare units on site so your filming schedule is not interrupted.
We also offer a restoration and renovation service allowing units to be used again and again.
We are based in Watford UK, around 20 minutes from Elstree Studios, and well within traveling distance of Shepperton and Pinewood Studios.
For more information or to discuss your requirements in complete confidence then call us on 01923 226494,
+44 1923 226494 from outside the UK
or email info@e-stim.co.uk